Archive 17: Oct / Nov / Dec
An interview with Maria Sedushkina a general coordinator of SAMU Social Moskva
18 Nov 17
An interview with Maria Sedushkina a general coordinator of SAMU Social Moskva was published at Miloserdie web-site
To help homeless mentally ill people NGOs should cooperate with Medical Institutions - Sedushkina says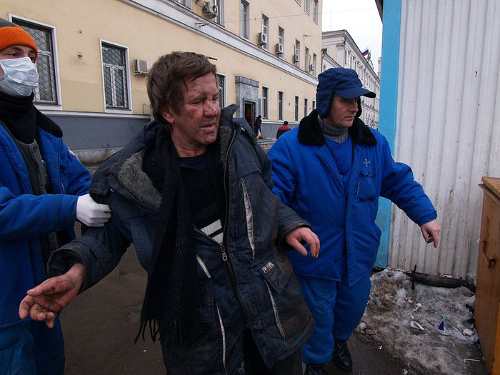 Winter collect
14 Nov 17
Winter is back!
A collect will be organised at the French Embassy on Thursday the 16th from 10 to 12 am, during the winter fair held by the "Moscou Accueil" association.
Socks, underwears, or personal care products such as soap, toothpaste, toothbrush, tissues... are more than welcome!
More details below.
Thank you for your generosity!
If you are unable to come on thursday, please contact us and we will organise a pick-up.
Evening with Aude Massot, author of "Chronique du 115"
11 Oct 17
We are pleased to invite you to the Francothèque, where Aude Massot, author of « Chroniques du 115 », a comic relating Samusocial's work in France, will present her work.
Eva Bertrand, president of Samusocial Moskva, will also be there to present our activities and projects for this year.
Address : Nikoloyamskaya ul., 1, Moskva, 109189
Subscription here : https://francotheque-events.timepad.ru/event/592792/
The conference will be held in French and Russian.
You are welcome, please pass the word !
Welcome to our new Director !
1 Oct 17
We are pleased at Samusocial Moskva to welcome our new Director, Eva Bertrand.

Eva has already lived and worked many years in Moscow. Doctor in Political Sciences, former vice director of the Franco-Russian Center of studies, she also is the associate chief editor of the French magazine dedicated to former soviet countries "Gare de l'Est".

Fluent in Russian, she had already a great awareness on social issues. The theme of her thesis was focused on the management of natural disasters in Western Russia.

We already know that all these fruitful experiences will enable her to serve Samusocial's cause, and thus help even more homeless people.